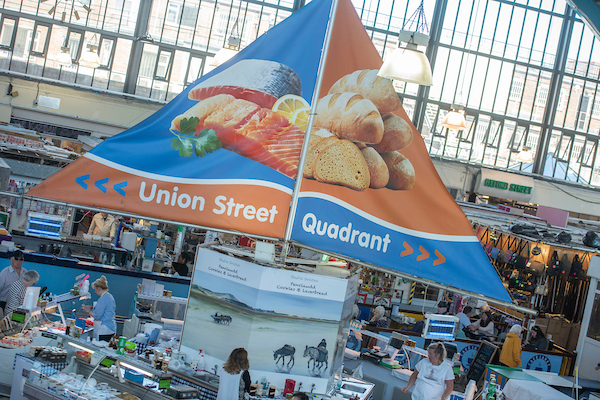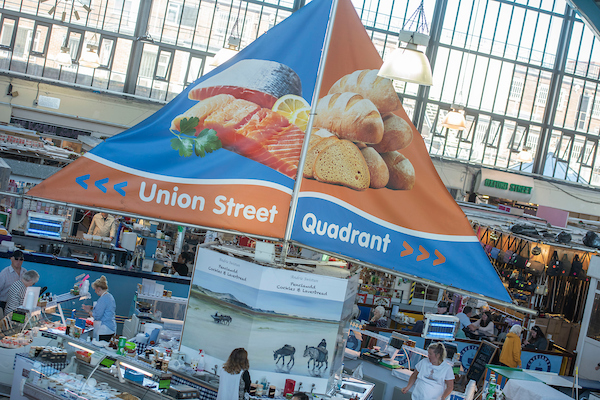 Swansea Market has secured the funding to deliver a £439,000 improvement package.
The work will include the addition of public toilets, along with a multi-purpose communal area, free public Wi-Fi, new interactive LED signs and improved entrances.
Transforming Swansea Market's central area – have your say!
At the heart of Swansea Market is a large open space—the central area. This mostly lacks facilities, is under-used and stands empty, but it offers great potential to be a popular destination!
Tangent Partnership Ltd is working with Swansea Council to transform this space. The aim is to create a landmark destination for people to meet, relax, eat and enjoy events. The area will have a green theme with relaxing planting features.
Please note there will be no change to the cockle rotunda or permanent stalls which will remain as they are.
As part of this development, casual traders will be able to use a new bespoke stall area with useful and flexible modular features. This will be located just by the cockle rotunda on a popular aisle which is visible from the existing casual trading area.
We would love to have input from our customers on our development, and would like to seek your views on everything from the name of the new area to the design. Click on the link below for more information on the proposals and to complete the survey online.
Swansea Market Central Area – Consulation
Take a look at our previous updates for the Market Improvement Plan!

Update 23.09.2020