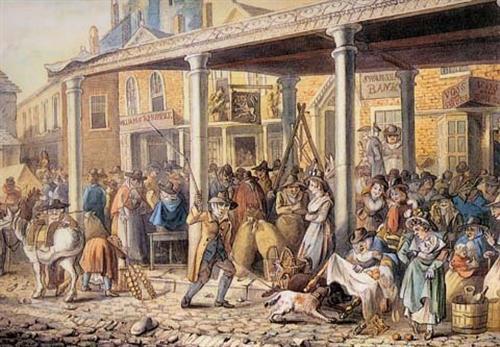 Lithograph by John Nixon, 1799.
In the 18th century it was decided further improvements were required as it was such a success it had outgrown the market house! Traders fought for room on pitches and stalls swamped the surrounding streets, which soon developed nicknames such as Butter Street, where the dairy vendors would trade and Potato Street where vegetables were sold.
This lively market became a health hazard, particularly the butcher stalls, so a new market place was put together specifically for the sale of meat. It was subsequently boycotted by the butchers it was built for, who resented the loss of their old pitches and returned to flog on the streets neighbouring the original market house.
The 19th century saw a dramatic population growth within Swansea and the city began to sprawl west, away from its medieval bearings. A new market was to be constructed to reflect this new boom in the city; it was to be to for butchers, fishmongers, fresh fruit and veg, stalls selling crafts and wares just like today's market, but with the addition of trading cattle, sheep and horses.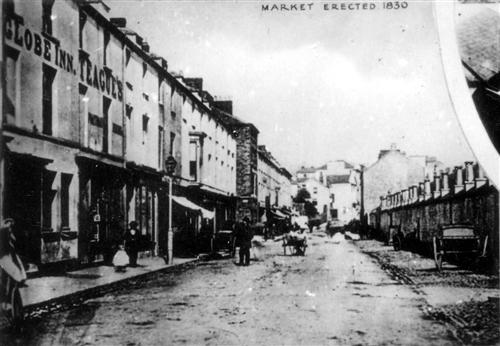 There may have been a Butter St and Potato St but it's an urban myth that Wind Street originated as 'Wine Street'.
This new marketplace opened its doors on Oxford Street in 1830, where today's market still stands. It mixed indoor and outdoor elements, a roof lined with chimneys billowing smoke, 89 stalls contained within a walled enclosure. Its middle contained a weighing room, a committee room and built from the stone of the previous market a grand clock tower, soaring above the skyline.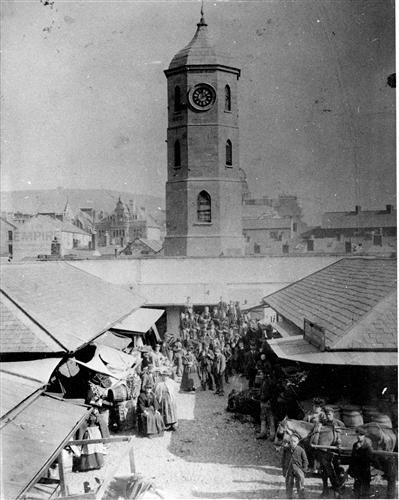 Swansea and the Market used to hold 5 annual fairs from the Medieval to Victorian era, however they were banned in 1863 for unruly behaviour!