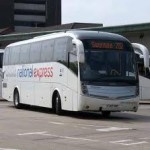 With over 100 traders including many unique stalls and places to eat Swansea Market is the perfect stop off point for coach groups.
As Wales' largest indoor market large groups are easily catered for and because it's all under cover it's a great attraction whatever the weather. The glass dome roof is an iconic part of the Swansea skyline and beneath it you can experience the character of a traditional local market that is such an important part of the city's heritage.
For further information about Swansea Market or to request leaflets about the Market please use our contact form.
For further general information about coach travel to the Swansea area please contact Swansea Group Travel Desk 01792 635208.
Why visit Swansea City Centre? – Key Facts and Figures
No.1
Swansea City Centre has over 260 shops including H&M and Debenhams. The City Centre is also home to 90 places to eat, 30 hairdressers and beauty salons and 45 pubs and clubs.
No.2
Swansea has 32 miles of stunning coast with over 50 named beaches and coves – that's a beach for every week of the year!
No.3
Swansea was recently named in the top ten fastest growing cities in the UK for business.
No.4
Swansea Market is the largest covered market in Wales with over 100 independent stalls.
No.5
Swansea City Centre has 25 car parks including 3 award winning park and ride facilities and over eight and a half thousand car parking spaces.
No.6
Swansea was recently named as the cleanest city in Wales and is even the second cleanest city in the whole of the UK (2009).
No.7
Swansea Museum is Wales' oldest public museum and the National Waterfront Museum in Swansea is one of Wales's newest museums celebrating its 7th anniversary in 2012.
No.8
Meridian Quay Tower on Swansea Marina at 29 stories high is Wales' tallest residential building with panoramic views of Swansea Bay.
This post is also available in: Welsh