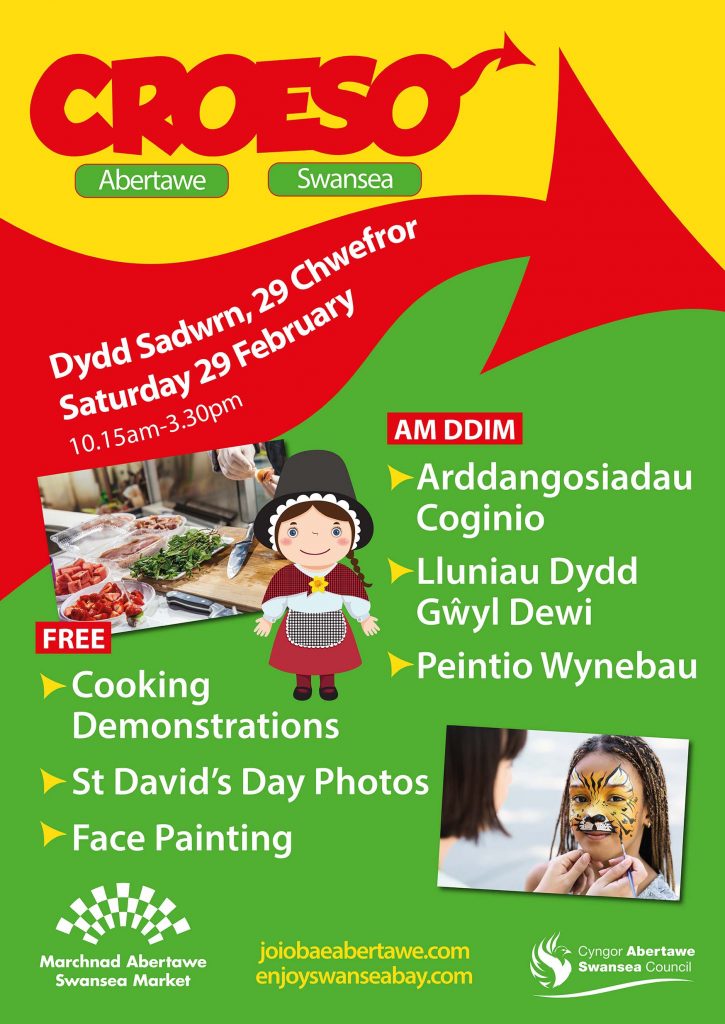 On Saturday 29th February and Sunday 1st March, the City Centre will be in full St David's Day celebratory swing. The 'Croeso Food and Drink' festival is a celebration of all things Welsh including food, poetry, music and art.
As the home of some of the finest produce in Wales and delicious dishes, at Swansea Market we'll be focusing on food!
On Saturday 29th February, we'll welcome professional chefs into the centre of the Market for cookery demonstrations and a Q and A session. There'll also be FREE St David's Day photos, courtesy of Smiles Photo, and face painting!
Come and join us from 10:15am to 3:30pm!
10.15am: Colin Lewis
Brought up in Oxwich, Colin Lewis loved crabbing and making Welsh cakes at the kitchen table. After working as a chef in the RAF, he returned to Wales, working at Fairyhill Hotel and other notable restaurants around Swansea. Now Head Chef at The Cliff in Southgate, Colin joins us to show us his skills.
11.15am: Helen Wilson, Vegan Chef
Plant-based chef Helen Wilson has spent the last 12 years promoting, teaching and creating vegan food. Helen was head chef at Swansea's first vegan cafe, Urban Zen and is getting ready to open the doors to her own vegan coffee bar in Brynmill, Swansea.
12.15pm: Nerys Howell, Howell Food Consultancy
Nerys has years of experience working in the food, drink and hospitality industry. She is the author of 'Wales on a Plate' – a bilingual book which includes traditional and contemporary recipes for Welsh produce and brings to life the traditions, lifestyles and cooking of Wales.
1.15pm: Sian Day and Rob Bowen, Channel 4's 'My Kitchen Rules' Semi-Finalists
Sian and Rob, both from Swansea, were a formidable Welsh contingent on the show in 2017. Interviewed about the show, Sian said: "While they were filming our back story, we took them to Caswell Bay, Clyne Valley Country Park, and Swansea Market, which is a part of my heart."
2.00pm: Matt Pritchard, 'Dirty Vegan' Book Q & A
The ex-presenter of the cult TV show 'Dirty Sanchez', Matt Pritchard, hosted the BBC's first ever vegan cookery programme and wrote an accompanying book. 'Dirty Vegan' is a joyful celebration of colourful plant-based food packed with flavour and is all about how cheap and easy it can be to go vegan. Come along and you'll be sure to pick up some great hints and tips!
3.00pm: Ragsy
Food lover, The Voice Series 2 finalist, singer-songwriter and presenter, Ragsy has an obsession for Welsh cuisine and all things Welsh. Owner of over 150 Welsh cookery books (and still counting!) he'll be making something worth waiting for!